Plexipave systems were designed to meet the needs of players of all levels.
There are three systems to choose from that offer varying degrees of speed. The ITF International Tennis Federation has classified the following systems that we offer.
Plexipave IW
Category: ITF 1
Speed: Slow
For those who want a slower surface to compensate for climatic effects, altitude or simply to reduce the pace of play.
Standard Plexipave
Category: ITF 3
Speed: Medium
Considered by many to be the best combination of consistency, rhythm and safety. Standard Plexipave is the traditional surface system and the one most installed by our customers.

Plexipave HU
Category: ITF 4
Speed: Medium/Fast
Ideal for training players on fast surfaces. This finishing system is commonly installed in high-level tennis schools.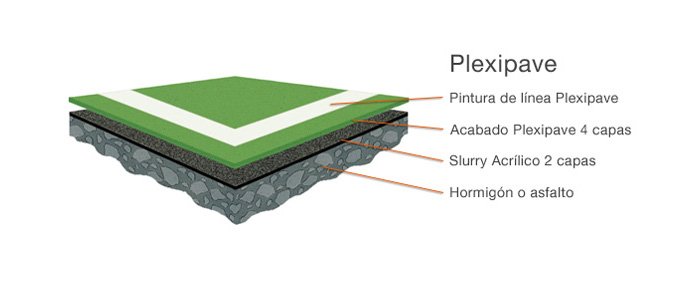 The Plexipave color system is a durable finish with superior resistance to UV deterioration.
Plexipave is made from 100% acrylic latex with a deep color formulation for application over concrete or asphalt.
Plexipave topcoats are available in thirteen standard colors. Special colors are also available.